We are delighted that some of our traditional 'in person' fundraising events have been able to recommence, whilst ensuring that everyone's safety is our absolute priority.
We held our golf day in September 2021 and look forward to holding our first ever virtual bridge tournament in October. Whilst things are slowly getting back to normal, please do get in touch if you have any fundraising ideas. We'd love to support your venture.
We are now taking applications for the London Marathon in 2022. The 2021 event was a huge success and we cannot thank our runners Alicia, Ben, Cathy, Josephine and Nick enough.
Thank you also to the team who ran for us in the Asics 10k in July 2021; your fundraising efforts are greatly appreciated.  We look forward to signing up more runners for next year – do get in touch if you'd like to join us in 2022.
The Fundraising team can be contacted here.
Thank you to our 2021 London Marathon runners!
It was a long wait and a lot of training since last year's cancellation and the rescheduling for this year's London Marathon.  Your support and dedication since signing up in early 2020 has been inspirational.   Thank you for keeping our charity as beneficiaries of your fundraising goals.  We are incredibly grateful for your donations but also for flying the flag for Nightingale Hammerson and supporting our residents and our wonderful team of carers.
We thank you from the bottom of our hearts and hope you can now put your feet up and enjoy a good (and immensely well deserved) break.
From all of us in the fundraising team and everyone at Nightingale Hammerson.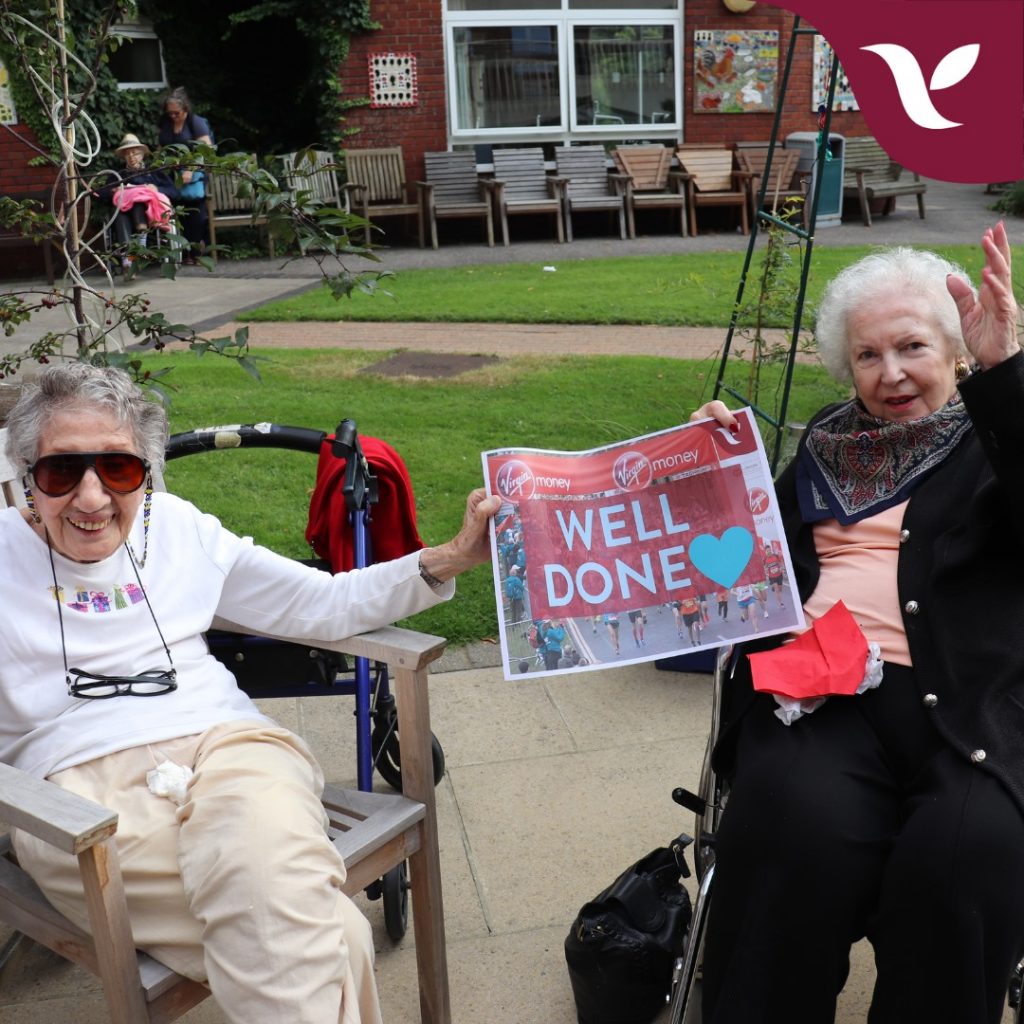 Maurice Edward Annual Golf Event
It was an absolute joy to be part of Maurice Edward's annual fundraising golf event at the beautiful and welcoming Coombe Hill Golf Club. Maurice and his wife, Valerie, have hosted a golf day, in support of Nightingale Hammerson, for 36 years. The only year when we were unable to attend was in 2020 when it had to be cancelled due to the pandemic. Our immense gratitude is offered to the Edward family. They have raised a huge sum for our charity over this time, which has gone a long way in our offering of exceptional care to our residents and supporting our care teams over these years.
Maurice and Valerie will now be passing the reins onto their children who will continue to host this marvellous event. We hope, Maurice and Valerie, you can join us next year, albeit in a slightly more relaxed fashion, knowing the hard work is being taken care of.
Our sincere thanks to you both and your family for your continued and dedicated support of Nightingale Hammerson.
Maurice and Valerie were presented with a small gift, made by one of our residents during their pottery classes. I hope you will agree a golf themed vase was just as fitting as a bouquet of flowers. Thank you to Professor Stanley, Maurice and Valerie loved your commission.