Frequently asked questions
A guide to fees and funding and frequently asked questions
Frequently asked questions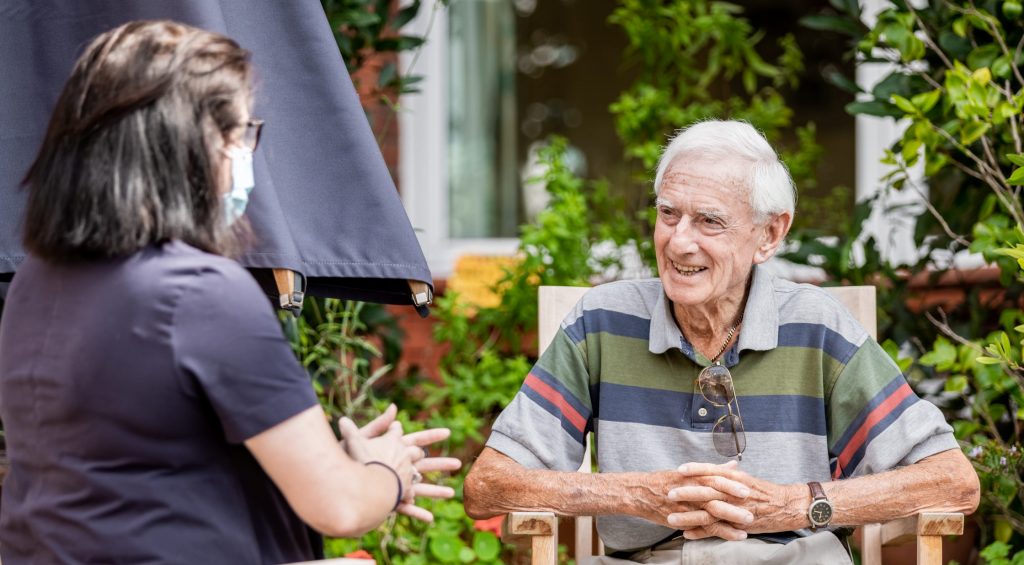 Care and Facilities at Nightingale Hammerson Key Facts
Levels of care
Residential Care: for our Residents who require support with general day to day living, such as help with washing and dressing.
Residential Dementia Care: for those living with dementia who need Residential Care.
Nursing Care: for residents who require more complex care from our registered nurses.
Nursing Dementia Care: for those living with dementia who need care from our nurses.
Respite Care: for those who require to stay with us for a shorter time period. This may be due to rehabilitation, post-operative Care, convalescence after a hospital admission or simply to offer some rest to Relatives at Home or when Care may not be available.
Our Care Managers assess everyone coming to our Homes and will ensure the correct care provision is put in place.
Facilities and services
Prior to admission, residents are assessed for a suitable room for their needs. This will include an appropriate bed for their care. Each room also has an armchair, wardrobe, drawers, bedside table and en suite facility.
All rooms are fitted with a nurse call system.
There is free WiFi and a direct line telephone can be installed (at an additional cost).
We offer room service at meal times, should residents not wish to dine with others in their Household dining room. There are also other communal spaces and resident lounges.
We provide an in-house Physiotherapy, Occupational Therapy and GP service.
We have a Library, Garden Café, Shop, Activities Hub, various rooms for entertainment, a Hairdressing Salon, Namaste and Sensory Room, Concert Hall and Synagogue.
Our on-site children's nursery sits at the end of extensive gardens which also house our aviary, koi carp pond and pet farm.
There is an extensive engagement programme tailored for all, both within individual households and in the many sociable areas of Nightingale House.
Our minibus takes residents on outings throughout the year.
There is an on-site mortuary.
Staff
Each Household has a Care Support Team, comprising Senior Care Assistants and Team Leaders who are led by a Household Manager.
In addition, some Households are served by qualified nurses.
When required, clinical interventions are provided by our nurse practitioners and GP practice or through the local NHS District Nursing Service.
Care Staff to resident ratios vary within Households and from day to night.
Overall ratios:
– 1:6/7 on Residential Households
– 1:4 on our Nursing Households
– Occasional 1:1 care may be required at an additional cost
At night, our Homes are managed by our Night Manager and supported by Care and Nursing Staff located on all Households.
All Households have their own allocated Housekeeping and Activity Staff.
Central staff include our team of Physiotherapists and Occupational Therapists, Activities Team, Caterers, Porters & Maintenance and our Religious Adviser.
Inspection ratings and CQC
Nightingale House was last inspected in September 2022 and was again rated as 'Outstanding'. Our inspection report can be viewed here.
Hammerson House was awarded the status of 'Good' for our CQC inspection at Hammerson House, Wohl Campus; CQC commented we have the seeds to reach 'Outstanding' in our next inspection. Our inspection report can be viewed here.
Fees and funding
For detailed fees information and further information on funding, please view here.